For the first time ever, the man that's been hailed as
"the leader of natural medicine's new wave" is revealing his
most life-saving new discoveries in this valuable encyclopedia...
And today Dr. Stengler wants to send you ALL of his most valuable cures and treatments, absolutely FREE, with his compliments.
His solutions are so simple... so natural... you'll be crying "Eureka!" and wondering why no other doctor is talking about them.
And his brilliant mind is always working. In the 560 pages of your new Natural Healing Encyclopedia...
You're going to learn a lifetime of healing secrets the
mainstream just doesn't know, like:
How this "funky" vinegar can help control blood sugar and even fight diabetes... (page 186)
How these 7 very common medications DESTROY hearing and may leave you deaf! (page 446)
How this weird Himalayan "caterpillar fungus" could be a game-changing breakthrough against fatigue, impotence, kidney and heart disease... (page 143)
How 2 tablespoons of this stuff can quickly relieve chronic constipation... (page 305)
How something in your bathroom could be making your family sick! You'll be horrified. (page 430)
How one simple supplement can CLOBBER blood clots and fight the hardening of artery walls... (page 499)
How a jellyfish extract may actually reverse the effects of aging on human brains! Weird but wonderfully true...(page 255)
There's so much more...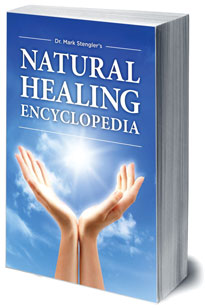 In fact, every medical miracle you learned today was first introduced to the readers of Dr. Stengler's privately circulated newsletter: Health Revelations.
And when you RSVP for a subscription today, you'll get every one of these secrets as part of the more than 80 health solutions in your FREE Natural Healing Encyclopedia. That's all 560 life-saving pages, plus an unbeatable money-saving deal on today's most powerful weapon in the battle against disease and old age...
Being a subscriber to Health Revelations is like having Dr. Stengler as your personal physician... While others wait years for the latest health breakthroughs, Dr. Stengler rushes the most up-to-the-minute information to you every month.
Each packed monthly issue is like an instruction manual for
HOW TO HEAL YOUR BODY
You'll get every step laid out for you in clear, easy-to-read language. You may well wonder how you got by without it so long. And today, you no longer have to...
Cancer, diabetes, heart disease, memory loss, arthritis, failing eyesight, COPD... the list of Dr. Stengler's disease cures and health solutions goes on and on.
Haven't you waited long enough?
And today, through this special video presentation, Dr. Stengler is inviting you to try a full year of Health Revelations without any risk to you at all.
When you do, you'll also get your complete Natural Healing Encyclopedia - that's all 560 life-saving pages - absolutely FREE. Your happiness with your Health Revelations newsletter subscription is fully guaranteed.
If at any time you're not completely delighted, just say so and you'll get every penny back, no questions asked.
And those BONUS GIFTS...
well, they're yours to keep FREE no matter what.
It's time for your second chance. Stop living in the painful past and step into your bright, beautiful future.
When you receive your Natural Healing Encyclopedia, open it immediately. Then you'll begin to unlock the potential hiding in your body right now – a new, healthier you.
No matter how big, difficult or scary your problem, Dr. Mark Stengler's Natural Healing Encyclopedia covers it.
But you must act now. Your FREE bonus gift is available only when you take advantage of the special offer through this video presentation.
Remember, there's no risk. If you don't find that your subscription to Health Revelations with Dr. Mark Stengler makes you healthier and happier than ever, you can cancel for a full refund at any time. And keep your FREE gift!
Do click below now so we can rush you your FREE encyclopedia of cures. Don't wait another minute.